Szerintem a kisgyermekes anyukák többségénél – hozzám hasonlóan – a banán az egyik olyan csemege, amely mindig megtalálható otthon. Persze sokszor előfordul, hogy egy-egy utolsó darab már barnán és kissé aszottan várja sorsát, és be kell valljam, ezek a nem túl ínycsiklandó példányok már többször végezték a kukában. Nos, ezt a helyzetet próbáltam felszámolni azzal, hogy egy olyan süteményt készítettem, amiben kifejezetten helye van a túlérett példányoknak. Az eredmény szerintem magáért beszél, Hanna is imádta :-).
Just as most households with toddler, I always have bananas at home. Last pieces are often forgotten on the counter, all brown and not at all appetising. I have to confess that until I started baking this cake, these specimens have frequently ended up in the bin. This recipe is based on over-ripe bananas and the result speaks for itself. Hanna loved it!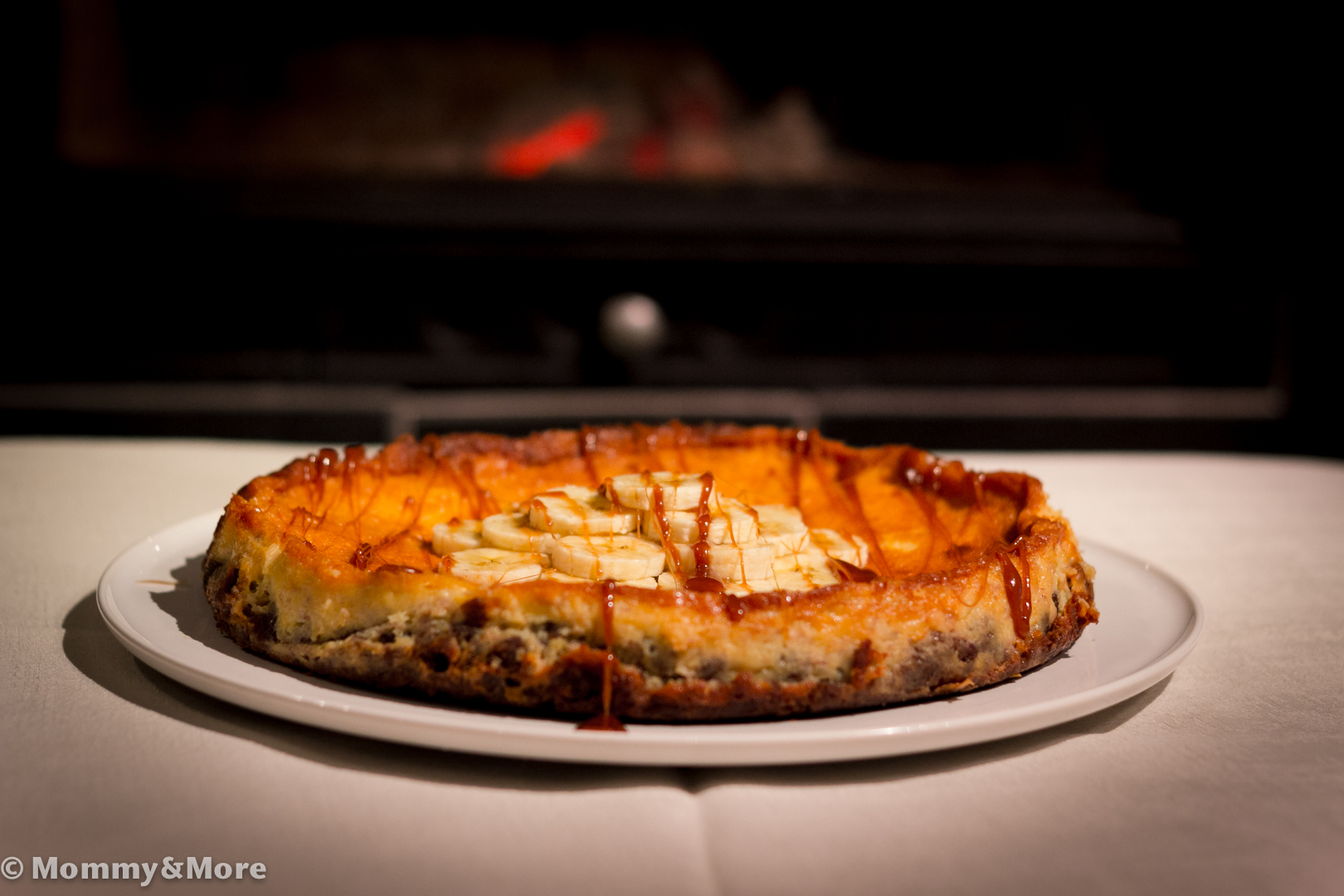 Hozzávalók
1 csomag kakaós Hobbits keksz / 80 g vaj / 500 g mascarpone / 2 dl tejszín / 3 tojás / 1 csomag vaníliás cukor / 120 g cukor / 2 érett banán / 1 banán
Ingredients
1 pack Hobbits biscuits with cocoa / 80g butter / 500g mascarpone / 20ml cream / 3 eggs / 1 pack vanilla sugar / 120g sugar / 2 ripe bananas/ 1 banana
Elkészítés
Egy 28 cm átmérőjű tortaforma oldalát és alját alufóliával körbetekerjük. A kekszet sodrófával vagy aprítógépben daráljuk morzsásra, majd keverjük össze a nem forró, megolvasztott vajjal. A keveréket nyomkodjuk a sütőforma aljára, és tegyük a sütőbe 5-7 percre, ezalatt elkészül a krém. A tojásokat verjük habosra a cukorral, adjuk hozzá a villával puhára nyomkodott banánokat, majd mehet bele a többi hozzávaló is. Kézi habverővel addig keverjük, amíg sima nem massza lesz belőle.
Method
Line the base and sides of a 28cm cake tin with aluminium foil. Crush the biscuits (use a rolling pin or food processor) then mix with the butter (not too hot). Press into the base of the tin to make a firm layer, then bake for 5-7 mins. To make the topping, beat the eggs with the sugar until frothy, mash the bananas with a fork and add to the mix together with the rest of the ingredients, then whisk until everything is very well mixed.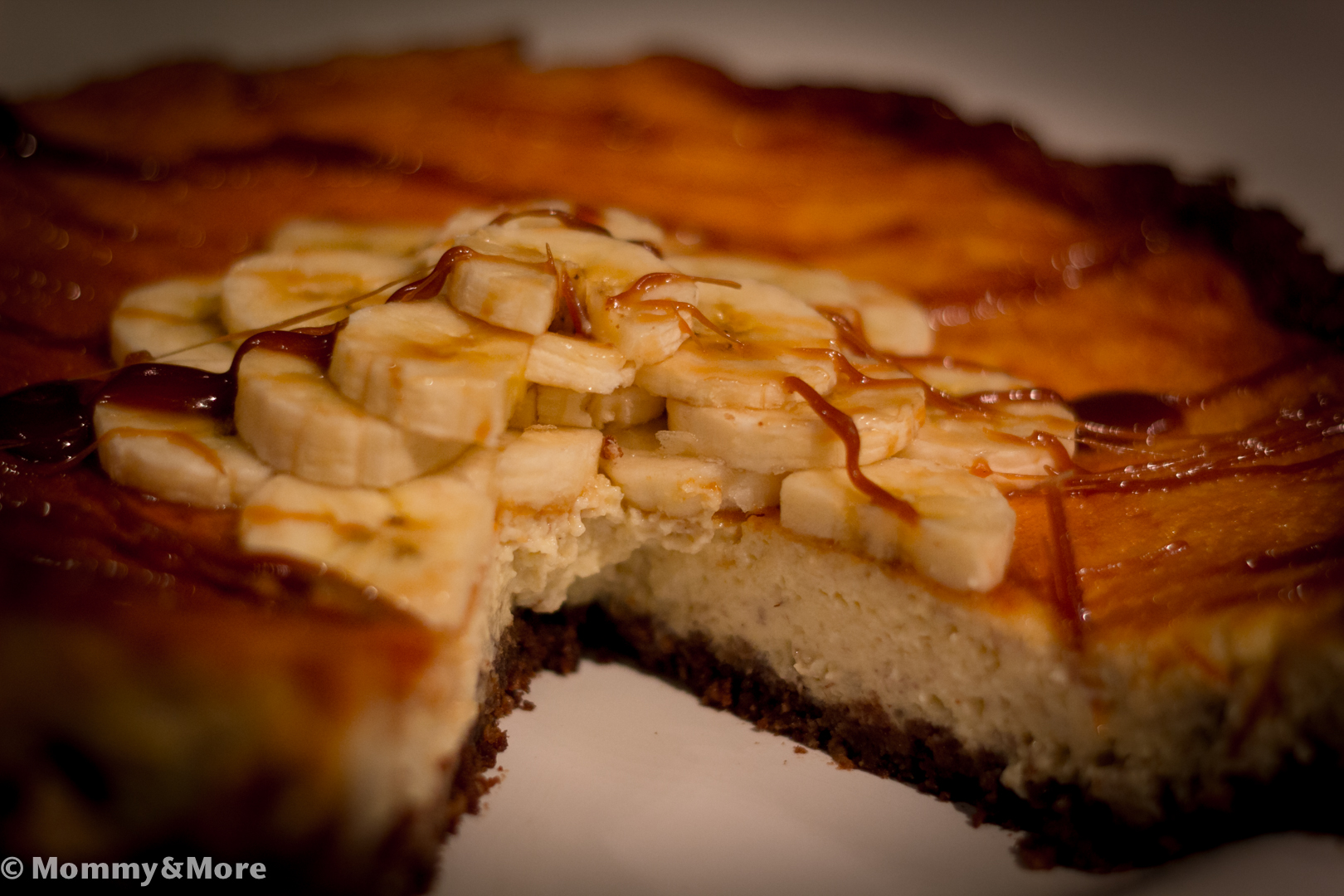 Ezután a krémet öntsük rá a kekszmorzsás alapra, és 180 fokos sütőben 50 percig süssük. A közepe ekkor még folyékonynak fog tűnni, de nem szabad tovább sütni, mert kiszárad. Ha a sajttorta szobahőmérsékleten hűlt már legalább 3 órát, tegyük be a hűtőbe legalább egy éjszakára. Tálalás előtt halmozzuk a torta tetejére a felkarikázott banánokat és egy kis karamellel is meglocsolhatjuk.
Pour onto the biscuit base and bake at 180C for 50 mins. The middle will seem raw, but do not bake further as it will dry out. After the cake has cooled at room temperature for at least 3 hours, put in the refrigerator for the night. To serve slice the remaining banana on top and sprinkle with some caramel.