A héten meghívást kaptam a Waiting For You showroomba, hogy megismerkedjek a márka legfrissebb kínálatával. A tervezővel, Raáb Mártival és stábjával nagyszerű délelőttöt töltöttünk együtt, igazán üdítő volt látni, hogy milyen szenvedéllyel és energiával veti bele magát az újabb és újabb kollekciók létrehozásába.
I got an invite to the Waiting For You showroom this week to see the brand's novelties. We spent a great morning with the designer Márti Raáb and her team. It was refreshing to see the passion and energy spent on creating new collections, one after the other.

A tavaszi-nyári szezont a könnyed pasztell árnyalatok, puha tapintású, kevert szálas pamut anyagok jellemzik. Természetesen az év színe, a marsala is megjelenik az egyes darabokban. A márka nagyszerű törekvése, hogy nem csupán a várandósság kilenc hónapjára koncentrál, hanem olyan univerzális darabokra is, amelyek a babavárás előtt, alatt és után is beilleszthetőek ruhatárunkba.
The spring/summer season showcases light, pastel tones and soft, mixed cotton fabrics. Marsala, this year's favorite color is featured naturally. The brand very practically focuses on universal pieces that can be worn before, during and after pregnancy.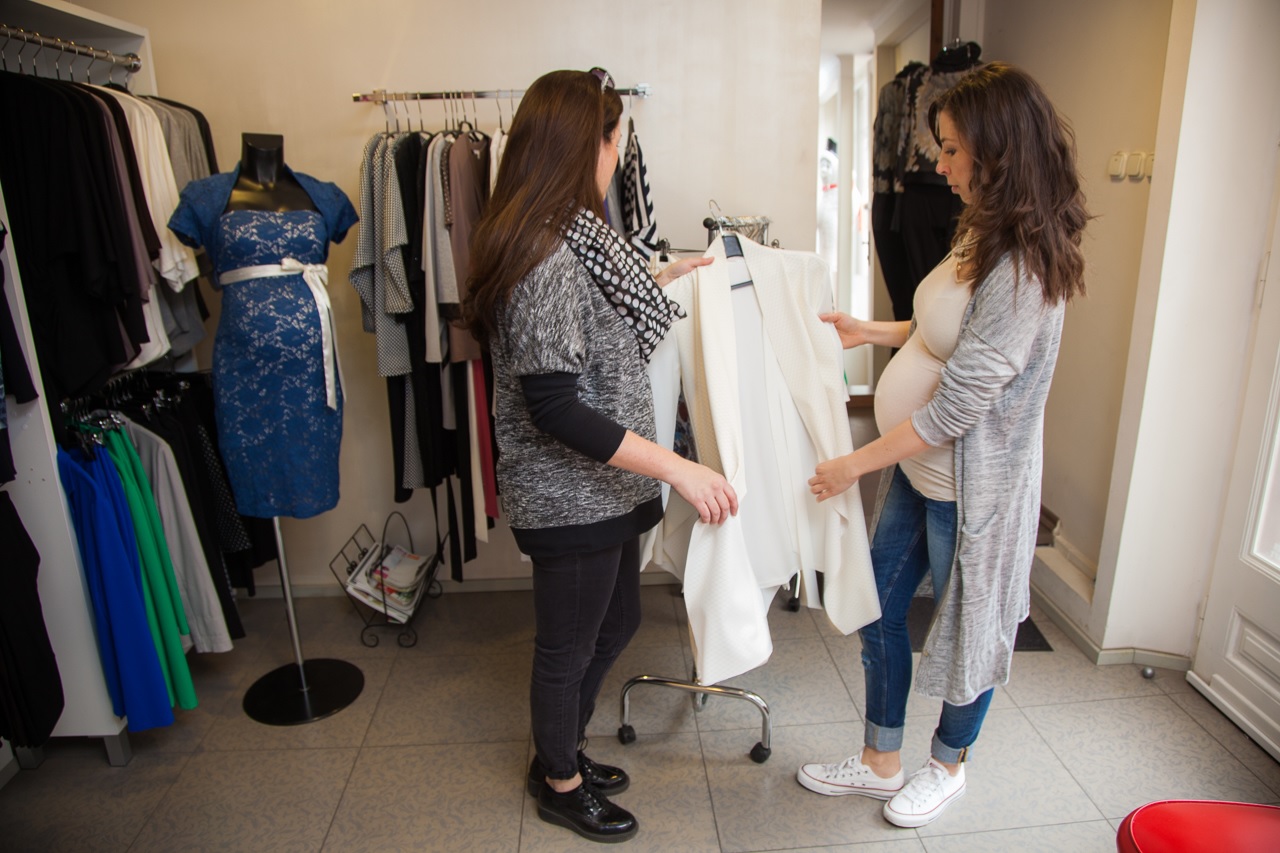 Az egyik kedvencem a bézs-rózsaszín ruha volt, amelynek formája minden várandós hölgy számára kifejezetten előnyös, színe miatt pedig kötelező tavaszi beszerzés. A másik favorit a tengerész hatású, kék-fehér csíkos pólók és tunikák, melyek nagyszerűen kombinálhatóak meglévő darabjainkkal. A szezon kulcsdarabjait hamarosan megmutatom nektek a blogon, legyetek résen!
One of my favorites was the beige-pink dress that is tailored to flatter all round bumps and its color is a spring must have. Another favorite is the sailor inspired, blue-and-white striped shirts and tunics, which could be mixed perfectly with existing pieces. Stay tuned, I'll soon be showing you the key pieces of the season!
Top: Sasa's Collection / Cardigan: H&M / Necklace: H&M / Jeans: H&M Maternity / Sneakers: Converse